Synthesia is an AI video generator that enables businesses and agencies to generate videos that feature AI avatars. It offers a variety of features such as templates, a screen recorder, and a media library to help users create videos quickly. Additionally, it supports over 120 languages.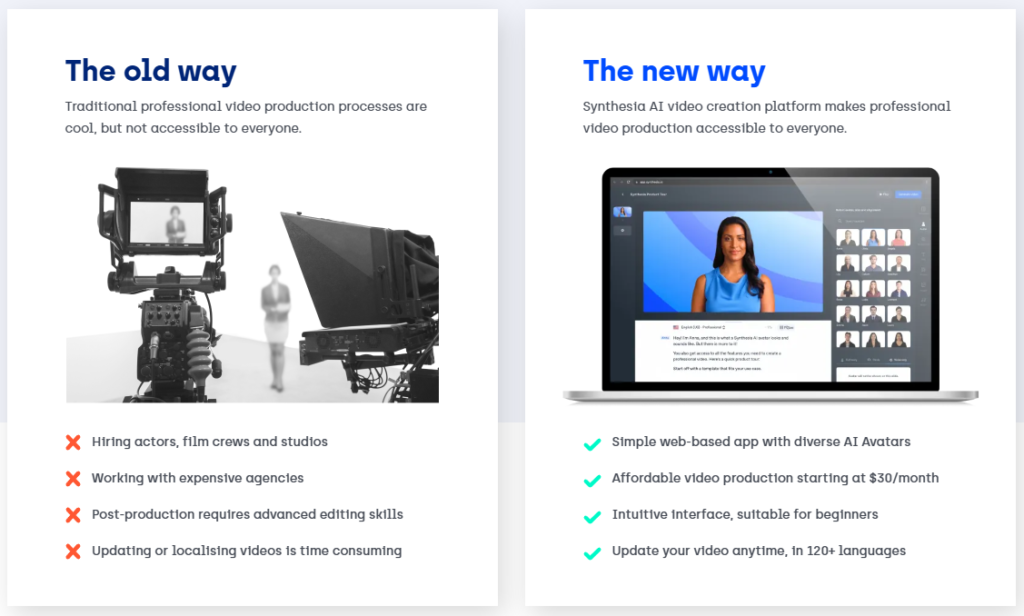 How is Synthesia different?
The process of video generation has been changed radically by Synthesia, thanks to the use of AI. Instead of relying on traditional components such as studios, actors, and cameras, users can now use a straightforward web-based platform. Here are the significant features Synthesia has brought :
Use pro actors without a studio
With the option to use AI avatars, you can avoid the hassle of expensive video equipment and the search for filming locations. This means that professional actors can be utilized without studio time.
Here are some of the features available:
Access to over 85 diverse AI avatars to choose from
Ability to get an exclusive AI avatar customized for your brand
Option to create your very own unique AI avatar.
Get expert voiceovers without microphones
You can now incorporate high-quality and uniform voiceovers into your videos without having to spend a lot of money on equipment or hiring voice actors. The process of editing is as simple as editing a document.
The following features are available:
Access to over 120 languages and accents
Easy editing and updating with just a click of a button
Closed captions are also included.
Produce uniform, high-quality videos in minutes
By using fully customizable templates, you can now create high-quality videos consistently and quickly. This helps to ensure that the content is always on-brand and scalable. Additionally, the videos can be easily edited and updated at any time.
Here are some of the available key capabilities:
Access to over 55 pre-designed templates to choose from
Ability to upload your own brand identity assets
Option to create a custom-made template that is unique to your brand.
Top 5 Synthesia powerful capabilities
Modern video creators now have access to complete video editing features. The interface is user-friendly and straightforward, requiring no previous video editing knowledge or extensive training.
1. Screen recorder
Effortlessly record and edit screen videos. Trim, crop, and edit as desired.
2. Upload brand assets
Incorporate your own font, logo, colors, graphics, icons, soundtracks, and more.
3. Design elements
Add and modify text, images, shapes, transitions, animations, and more.
4. Free media library
Gain access to royalty-free media assets from Unsplash and Shutterstock.
5. Easy updates
Quickly create new videos by duplicating and editing existing ones in just a few minutes.
Synthesia Video GeneratorPricing
Over 30,000 teams use Synthesia to produce videos at scale, resulting in up to 80% savings in time and budget. Here are the available pricing plans: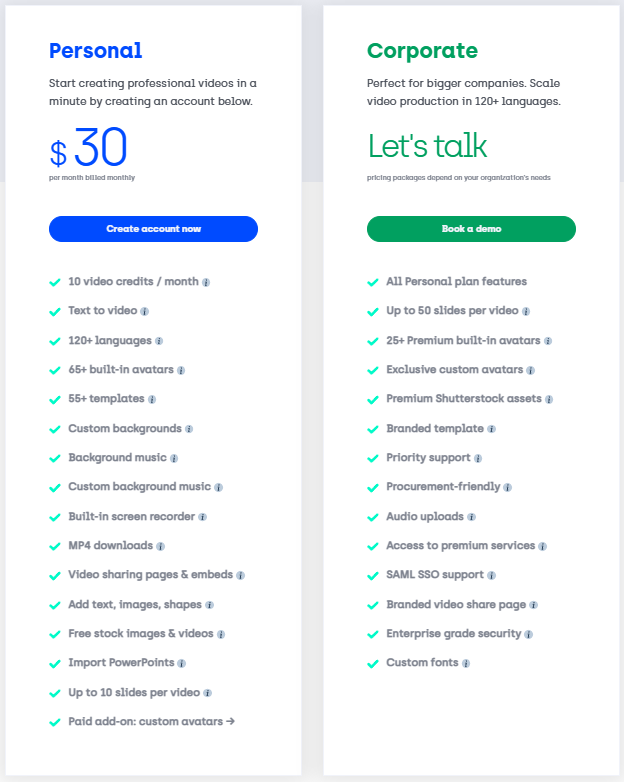 Can I use Synthesia for FREE?
You have the option to experiment with Synthesia Video Generator at no cost by visiting the free demo video page. You can select a video template, enter your script, and produce a video for free.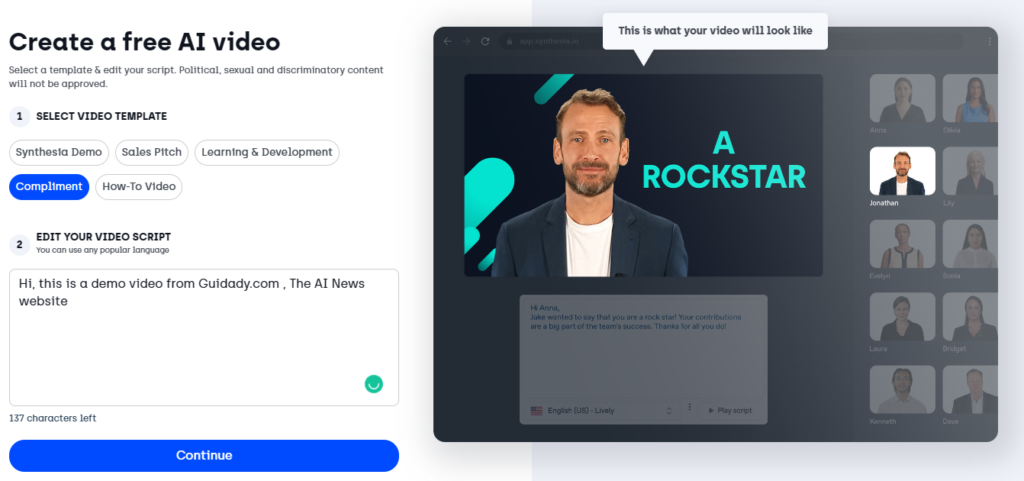 Join Guidady AI Mail List
Subscribe to our mailing list and get interesting stuff and updates to your email inbox.