Have you ever wished you could rapidly build a distinct fictional character? You may now bring it to life by just entering in a few character attributes.
And even talk to it!
This fantasy has come true due to the improved technology of MyCharacter.ai. It's an excellent resource for any writers searching for inspiration, as well as anybody interested in artificial intelligence. Let's find out what it is.
How Did It Start?
MyCharacter.ai's origins may be traced back to Aletius AI. Alethea AI was formed as a data processing and analysis research lab. Its objective was to create advanced artificial intelligence.
They attempted to create technology that could generate digital characters in particular. Their goal was to make three-dimensional figurines that could interact with humans.
Alethea AI developed CharacterGPT, a multimodal artificial intelligence system, to do this. CharacterGPT produces interactive symbols based on natural language input from the user.
These AI characters can be used for a range of purposes. We'll return to the regions of utilization later. The beauty of CharacterGPT was that users could design and personalize their 3D characters without knowing how to code. Everyone can make use of it.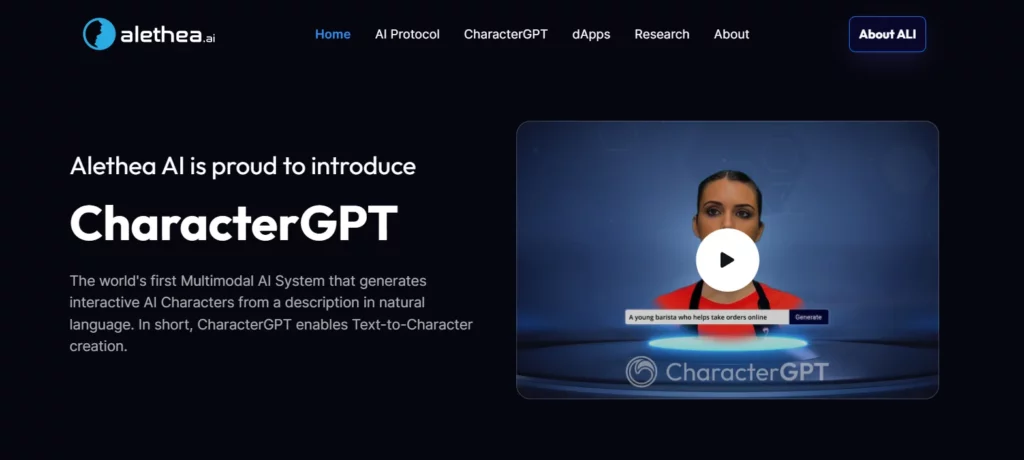 Character DemocratizationGPT
Alethea AI has partnered with MyCharacter.ai to ensure that the democratization of CharacterGPT continues. MyCharacter.ai is a decentralized application (dApp) based on the Alethea AI protocol. It is a blockchain-based platform for creating and managing digital identities and assets.
MyCharacter.ai as a decentralized application takes advantage of the distributed nature of blockchain technology. In this way, it can provide transparency, security, and availability. MyCharacter.ai provides a smooth and fast process for creating interactive 3D characters.
And all this becomes possible thanks to the use of the Alethea (ALI) artificial liquid intelligence token.
With this partnership, you can now create emotionally expressive 3D characters. MyCharacter.ai made this possible by using blockchain technology to provide a decentralized and democratized platform for people who can create AI-powered characters.
This collaboration has opened up a whole world of opportunities for companies, artists, and individuals interested in developing a digital identity. It has also cleared the way for ongoing research and development of sophisticated ai systems.

How Do I Create A Character In MyCharacter.Ai?
It's an extremely simple process. All you need to do is write a hint. You need to describe the traits of your character. For example; "a theatre director like a Taiwanese who likes to play golf" or "a nuclear medicine technologist like a Surinamese who loves radio".
Look at mine, for example; I wrote "A fat Canadian guy who likes hamburgers and loves video games" And it gave me the image of Mr. Patrick O'Hara.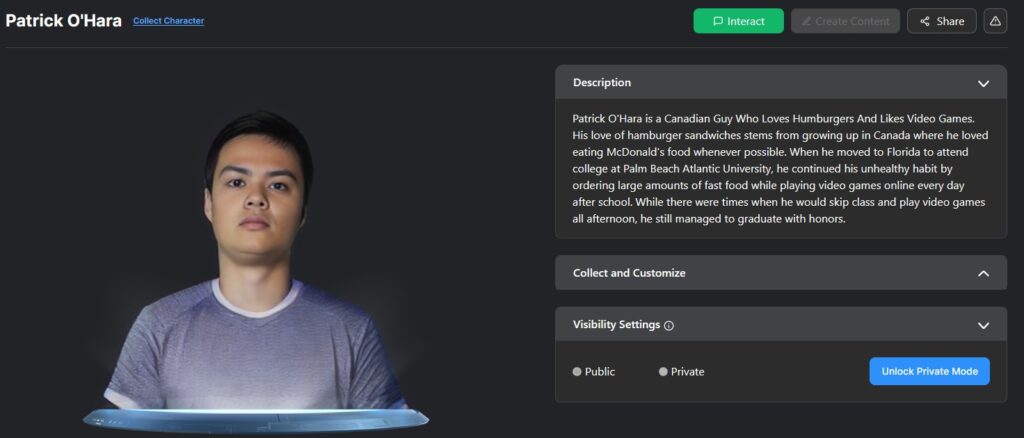 Once you've created your character, you can chat with them. In addition, you can share your character with others. On MyCharacter.ai there is an opportunity to view the "Gallery". The gallery MyCharacter.ai displays characters created by artificial intelligence.
You can view, interact and upload characters created by other users. Generated characters are regularly added to the gallery. Thus, it always remains updated.
Features Of AI Characters
MyCharacter.ai provides three types of characters created by artificial intelligence. Each of them has a unique set of characteristics. "Basic characters" can be used completely free of charge, and they can be modified with the help of various personal qualities.
"Verified characters" go through an approval process to make sure they meet certain quality requirements. They can be used for commercial purposes.
Finally, collectors can purchase a limited edition "Collectible Characters" with unique backgrounds and accessories.
Any characters created on the site can be interacted with through a variety of methods, such as dialogue and games. In addition, the platform seamlessly integrates with other tools and platforms.
Thus, it is easy to include AI-created characters in a variety of projects.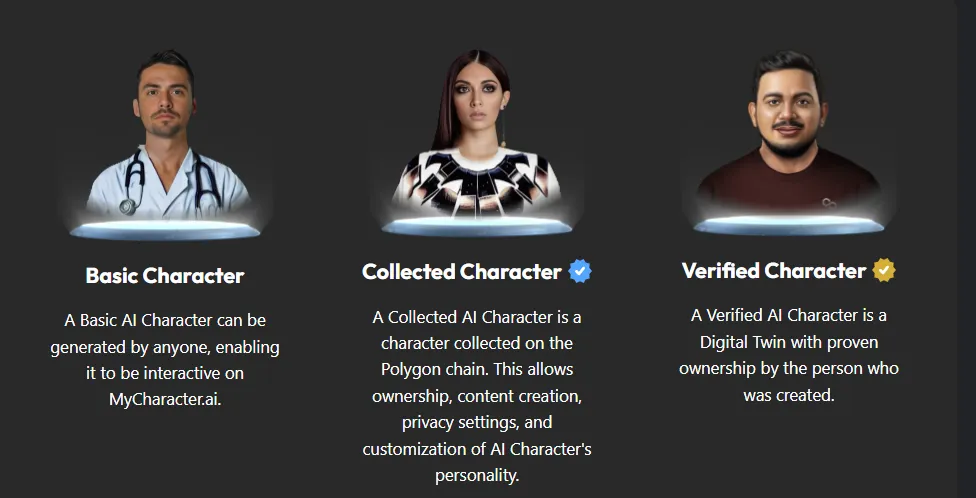 Capabilities Of TRANSFORMATIONAL AI Characters
Characters created by artificial intelligence can soon transform many areas. So what are our alternatives?
Honorary Ambassadors
Thanks to characters created by artificial intelligence, firms can have a virtual representative available to potential consumers 24 hours a day. These avatars can interact with customers, answer their questions, offer help, and even promote products or services.
This increases the volume of transactions while maintaining a unified voice and brand identity.
AI Companions
Characters created by AI can also act as virtual companions. They can act as a friend who is constantly there for them and is mindful of the vital aspects of their lives.
These companions can provide emotional support, as well as help with activities such as planning and reminders. You may be able to choose a companion that suits your specific interests.
Content Creators
Characters created by artificial intelligence can change the process of content development. They can be taught to make videos, copy, and other materials in a shorter period of time than a person.
This can help companies and individuals scale the production of their content. And it can increase their online presence, which will eventually lead to more engagement.
Virtual Twins
An Avatar created by ai with the same voice and image can represent a person or a corporation. And the "Digital Twin" can be present everywhere at the same time. This can significantly improve the efficiency and scalability of corporations.
Digital NPC Characters With Artificial Intelligence
Characters created by artificial intelligence can change the players' experience of games. Since these characters can learn from every contact, they can look more realistic. And they can provide a more immersive experience. It can also help game creators in developing more dynamic games for users.
AI Characters In The Media
Finally, characters created by artificial intelligence can create entirely new stories and events that can be discovered. These avatars can guide users through virtual environments. This could change our future media consumption and interaction.
Enclose
As artificial intelligence technology advances, the future of AI-created characters seems bright. The ability to create interactive and customizable 3D shapes has huge potential to transform industries.
In the coming years, we can expect more creative use of AI-created characters, paving the way for a new era of AI-based creativity and transformation.
Join Guidady AI Mail List
Subscribe to our mailing list and get interesting stuff and updates to your email inbox.