Casetext, a legal AI company, introduced CoCounsel today, which is the first AI legal assistant. CoCounsel uses the latest and most advanced large language model from OpenAI, which Casetext has tailored to meet the needs of legal practitioners, and can skillfully execute the most valuable tasks for legal professionals.
We're thrilled to introduce CoCounsel, the world's first AI legal assistant. Built with our proprietary tech and the latest, most advanced large language model from OpenAI, CoCounsel offers the skills most valuable to legal professionals in one platform. https://t.co/Y7BvS0fmju

— Casetext (@casetext) March 1, 2023
The Revolutionary Legal Tech Innovation
Fisher Phillips, a 500-lawyer labor and employment firm, is already using this product firm-wide. Beta customers also include Eversheds Sutherland, Bowman and Brooke LLP, and Orrick Herrington & Sutcliffe LLP – all highly respected law firms in their own right. This speaks to the quality of the product as well as its success among legal professionals.

An AI Legal Assistant with Guard Rails
Casetext, in collaboration with OpenAI and several law firms, has implemented guard rails to the technology used for CoCounsel. The CEO of Casetext, Jake Heller, ensured that CoCounsel does not produce "false positive results" by undergoing rigorous testing to prevent any "hallucinating" errors.
Reliable and Secure Legal Solutions
CoCounsel distinguishes itself from publicly available language models by offering high reliability and security that are critical for legal affairs. Casetext ensures that no data is retained by CoCounsel, and client data is not used to develop the model. To cater to the specific demands of legal practice, Casetext created a trust and reliability program managed by a team of AI engineers and litigation and transactional attorneys.
CoCounsel Subscriptions
At the moment of writing, Casetext is providing three subscription options with a limited trial access, which can be requested here.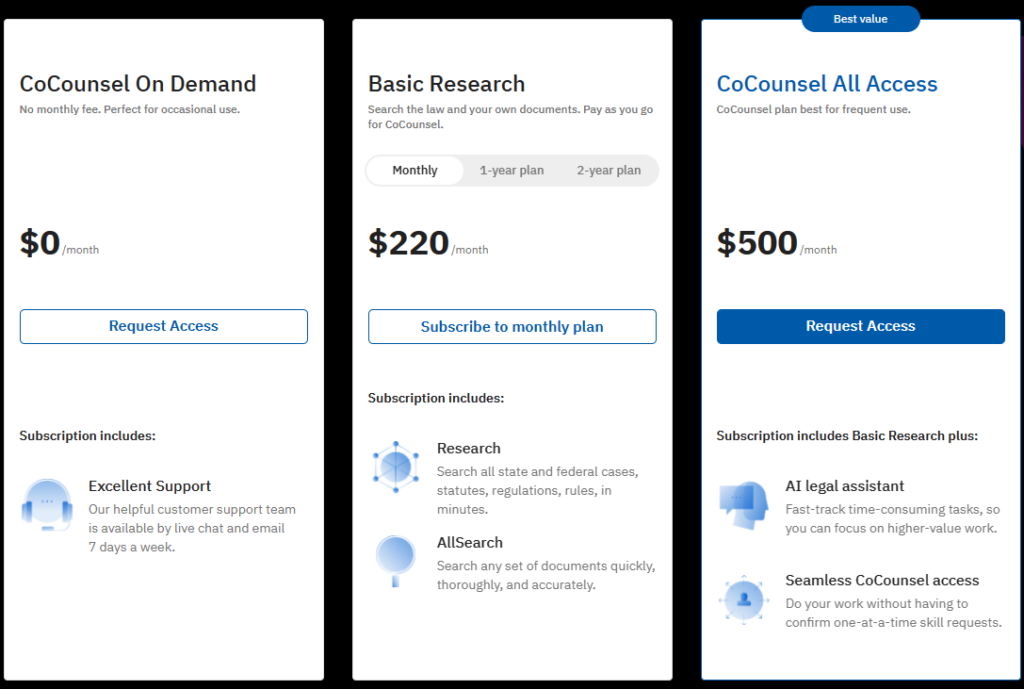 The Future of Legal Tech with CoCounsel
Although OpenAI's technology raises existential questions for lawyers, all of Casetext's customers have been overwhelmingly positive about the new offering. Many law firms, including Fisher Phillips and Bowman and Brooke, have already experienced immense benefits from using CoCounsel, and there is still more to come. Casetext innovation has the potential to change how law firms practice law, enabling attorneys to become more agile and precise.
Join Guidady AI Mail List
Subscribe to our mailing list and get interesting stuff and updates to your email inbox.