Google has announced a suite of upcoming generative AI features for its various Workspace apps, including Google Docs, Gmail, Sheets, and Slides. The features include new ways to generate, summarize, and brainstorm text with AI in Google Docs (similar to how many people use OpenAI's ChatGPT), the option to generate full emails in Gmail based on users' brief bullet points, and the ability to produce AI images, audio, and video to illustrate presentations in Slides (similar to features in both Microsoft Designer, powered by OpenAI's DALL-E, and Canva, powered by Stable Diffusion). These features aim to help users create more engaging and effective content with less effort and time. Google confirmed it will be available for trusted testers later this year before rolling out publicly.
AI Google Slides
Users can use AI to automatically generate images, audio, and video clips based on their presentation topics and keywords. Users can also use AI to adjust the style, color scheme, and layout of their slides with smart suggestions.
AI composition for Google Docs
Users can type a few words or sentences in Docs and let AI generate the rest of the text based on the context and tone. Users can also use AI to elaborate, shorten, bulletize, or formalize their text with a single click.
AI drafting for Gmail
Users can write brief bullet points in Gmail and let AI turn them into full emails with proper grammar and formatting. Users can also use AI to suggest different ways of expressing their messages or add some humor with the "I'm Feeling Lucky" option.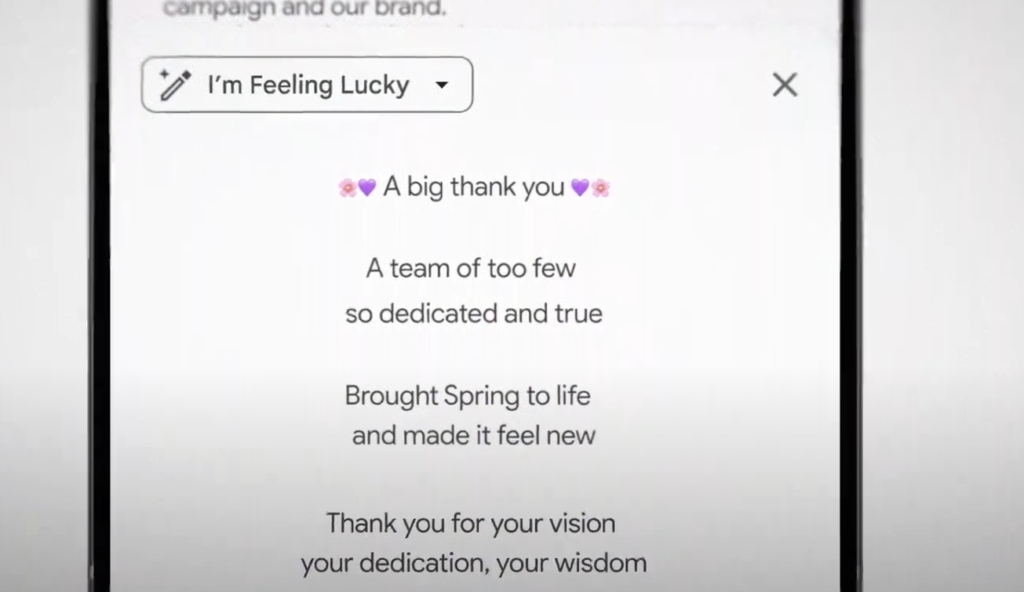 In its press release, Google elaborates on the possible applications of its new technology. The company claims that it can help users find relevant information faster, improve accessibility and inclusion, and enhance creativity and productivity. Google also provides some examples of how the technology works in different domains such as education, health care, and entertainment.

Whether you're a busy HR professional who needs to create customized job descriptions, or a parent drafting the invitation for your child's pirate-themed birthday party, Workspace saves you the time and effort of writing that first version.
The new AI workspace from Google with technology that generates summaries from text has potential applications in various domains, but it also poses significant risks. The AI system may produce inaccurate or misleading summaries that could have negative consequences for users. For instance, imagine if the AI misrepresents the content of a meeting or invents fictitious information in a marketing email. Google acknowledges that AI is not perfect and may need human guidance, but this may not be enough to prevent errors or damages. Users should be aware of the limitations and challenges of this technology before relying on it for their tasks.
Join Guidady AI Mail List
Subscribe to our mailing list and get interesting stuff and updates to your email inbox.