What is Tome AI?
Tome AI generative storytelling feature empowers creators to effortlessly construct complete stories, presentations, or outlines from scratch. With intelligent titles, pagination, page layouts, and page text, coupled with GPT-3 and AI-generated graphics, you can create compelling content in no time. Best of all, the process is quick and easy, so you can focus on what matters most – your ideas. With Tome, there's no limit to what you can achieve.
Why Use Tome AI for Presentation Slides?
Tome AI can be particularly useful in creating effective and engaging presentation slides. It can analyze data such as audience demographics and presentation content to suggest the most effective visual and textual elements. This can help presenters to better engage with their audience and convey their message more effectively.
Uses of Tom AI
Experience the power of a collaborative AI partner with Tome
Simply type in a prompt and watch as it generates entire narratives from scratch or creates additional content pages within seconds. Plus, with DALL·E 2 tile, you can create customized and compelling images that perfectly bring your ideas to life. All this and more, right at your fingertips.
Elevate your storytelling with any type of content using Tom platform
We understand that your narrative deserves more than just plain text and images. With tom tools, you can effortlessly share a prototype, add 3D renderings, trim a video, or embed live content from the web to make your point more compelling. So why settle for less? Build a powerful story that truly captivates your audience.
Experience frictionless creation combined with magical design when you use Tome
Simply focus on your ideas and let Tome take care of the rest. Tom platform offers drag-and-drop creation, responsive pages, and one-click themes so you can avoid wasting time aligning content or applying brand colors. With Tome, you can effortlessly bring your ideas to life without any unnecessary distractions.
Enhance your content with live and interactive elements from the web
With Tome AI, you can easily embed anything from the web in one convenient place. We offer live integrations with your favorite tools, like Figma, to let you showcase your existing work as a connected part of your story. So why limit yourself? Use Tom platform to create content that truly stands out.
Tom AI video narration brings your story to life.
Native video recording lets you explain a complex idea or simply add a personal touch to your story, even asynchronously.
Effortlessly share your Tome with anyone, on any screen.
With just one click, you can share a link to your Tome and ensure that viewers can easily access it from any device. Tom platform is designed to fit seamlessly on any screen, so your audience won't have to squint or pinch to zoom. With Tome, sharing your content has never been easier.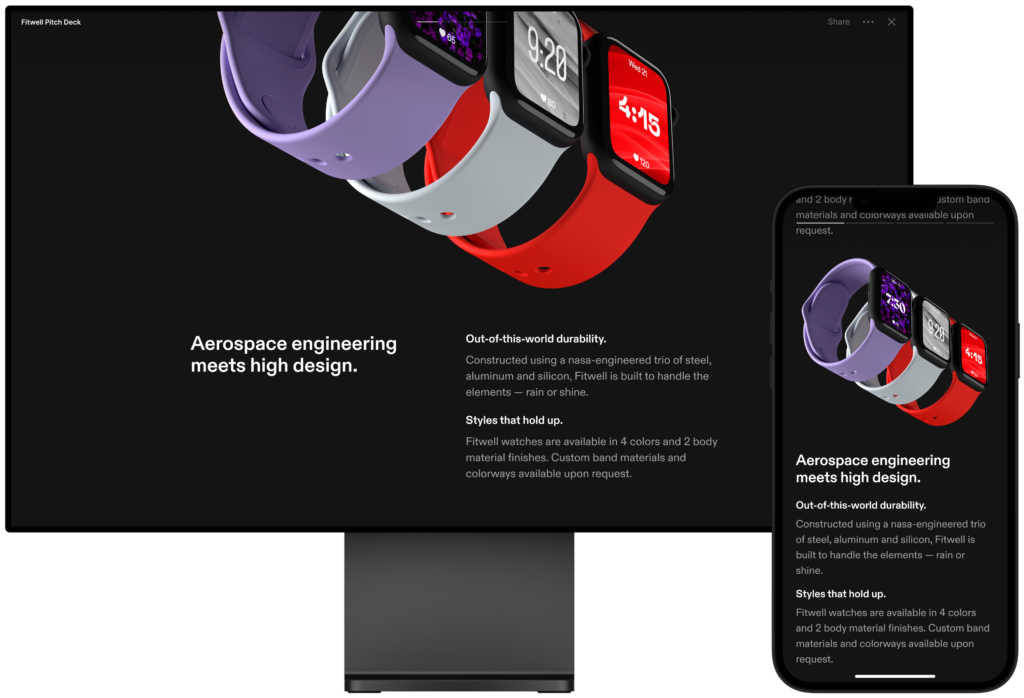 Tome is designed to work wherever you do
With Tom iOS app, you can seize a spark of inspiration or make a last-minute edit right before the meeting. Best of all, your work syncs seamlessly across all your devices. So whether you're on the go or in the office, you can trust that your content is always up to date and accessible. With Tome, you're never limited by your location.
Tips for Using Tome AI in Presentation Slides
To make the most of Tome AI in presentation slides, it's important to:
Use high-quality data: Tome AI relies on accurate and relevant data to provide useful insights. Ensure that the data you use is up-to-date and relevant to your audience.
Customize your slides: Take advantage of Tome AI's recommendations to create customized and engaging presentation slides that are tailored to your audience's interests and preferences.
Practice good design principles: Even with the help of Tome AI, it's important to follow good design principles when creating presentation slides. Use clear and legible fonts, and avoid cluttered or confusing layouts.
Conclusion
Tome AI can be a powerful tool for creating effective presentation slides. By leveraging its advanced algorithms and machine learning capabilities, presenters can create customized and engaging presentations that effectively communicate their message to their audience.
Join Guidady AI Mail List
Subscribe to our mailing list and get interesting stuff and updates to your email inbox.