If you are looking for a new way to collaborate with your team, you might want to check out Duet AI, a newly announced feature from Google Workspace that lets you co-write documents with an artificial intelligence assistant. In this article, we will explain what Duet AI is, how it works, and what benefits it can bring to your workflow.
What is Duet AI?
Duet AI is a feature that allows you to write documents with the help of an AI assistant that can suggest content, format, and style based on your preferences and goals. You can use Duet AI in Google Docs, Sheets, and Slides, and you can choose from different types of assistants depending on the purpose of your document. For example, you can use a research assistant to help you find and cite sources, a creative assistant to help you generate ideas and stories, or a business assistant to help you write professional and persuasive documents.
How does Duet AI work?
To use Duet AI, you need to enable it in your Google Workspace settings. Once you do that, you will see a new icon in the toolbar of your document editor that lets you access the Duet AI menu. From there, you can select the type of assistant you want to use, and then start writing your document as usual. As you write, the assistant will analyze your text and offer suggestions in a sidebar. You can accept or reject the suggestions by clicking on them, or you can ask for more suggestions by clicking on the refresh button. You can also give feedback to the assistant by rating the suggestions or typing in comments. The more feedback you give, the more the assistant will learn from your preferences and goals.
What are the benefits of Duet AI?
Duet AI can help you save time and improve the quality of your documents by providing you with relevant and helpful suggestions. You can use Duet AI to:
Generate content: The assistant can help you write faster and more easily by suggesting sentences, paragraphs, headings, bullet points, tables, charts, images, and more.
Format and style: The assistant can help you make your document look more professional and consistent by suggesting fonts, colors, layouts, themes, and styles.
Edit and proofread: The assistant can help you avoid errors and improve your grammar, spelling, punctuation, vocabulary, and tone by suggesting corrections and improvements.
Research and cite: The assistant can help you find reliable and relevant sources for your document by suggesting links, quotes, facts, statistics, and citations.
Create and tell stories: The assistant can help you unleash your creativity and engage your audience by suggesting ideas, plots, characters, dialogues, and emotions.
Duet AI in Google Docs:
Smart canvas is a popular feature that lets you use @ mentions to add relevant information and people to your document. Now, Google is making it even easier to write with Duet AI, a new assisted writing experience in Docs. For example, if you need to write a job description, Duet AI will help you create the content and insert smart chips for details like location, status, and company name. This way, you can finish your document faster and more efficiently.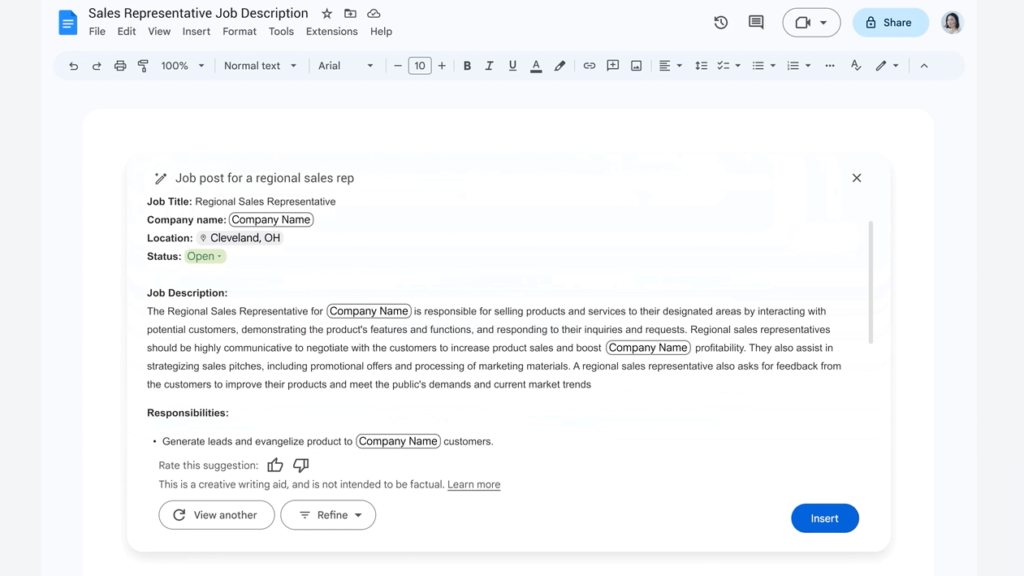 Google improved neural models for grammar to help you write professionally in different languages, such as English, Spanish, French, and Japanese. You'll see a new proofread suggestion pane that gives you tips on how to write clearly, avoid repetition, and use a formal or active voice. You can choose when to see these suggestions and how to apply them.
Duet AI in Google Sheets
Duet AI is a new feature that helps you work with data and plans in Sheets more efficiently and effectively. It automatically classifies data in cells based on their context and meaning, and creates labels that make your analysis clearer and more visual. Whether you need to analyze user feedback, interview responses, or any other type of data, Duet AI saves you time and hassle by doing the hard work for you.
Duet AI also helps you create custom plans for any task, project, or activity that you want to organize and manage in Sheets. Just tell Duet AI what you want to do, and it will generate a plan that helps you get started. Whether you are planning a sales conference, a team offsite, or any other event, Duet AI helps you stay on track and achieve your goals.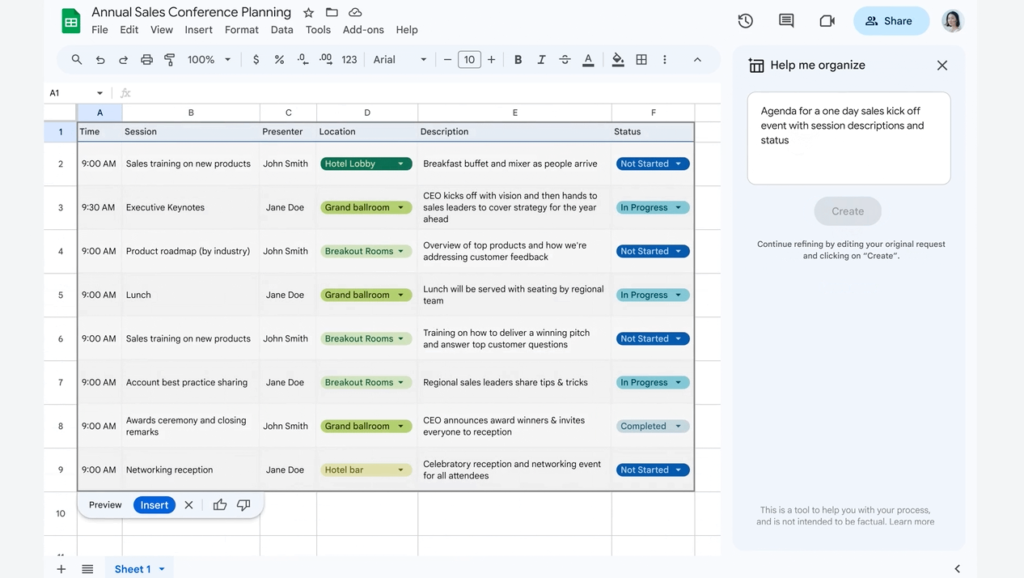 Duet AI in Google Slides
Duet AI can create stunning visuals for your presentations with just a few words. You can use it to generate images that match your creative vision and convey your message effectively. For example, if you want to pitch a safari campaign to Parisians, you can simply type "a giraffe wearing a beret and a striped shirt in front of the Eiffel Tower" and Duet AI will produce an original image that captures the essence of your idea. With Duet AI, you can save time and effort while making your presentations more engaging and memorable.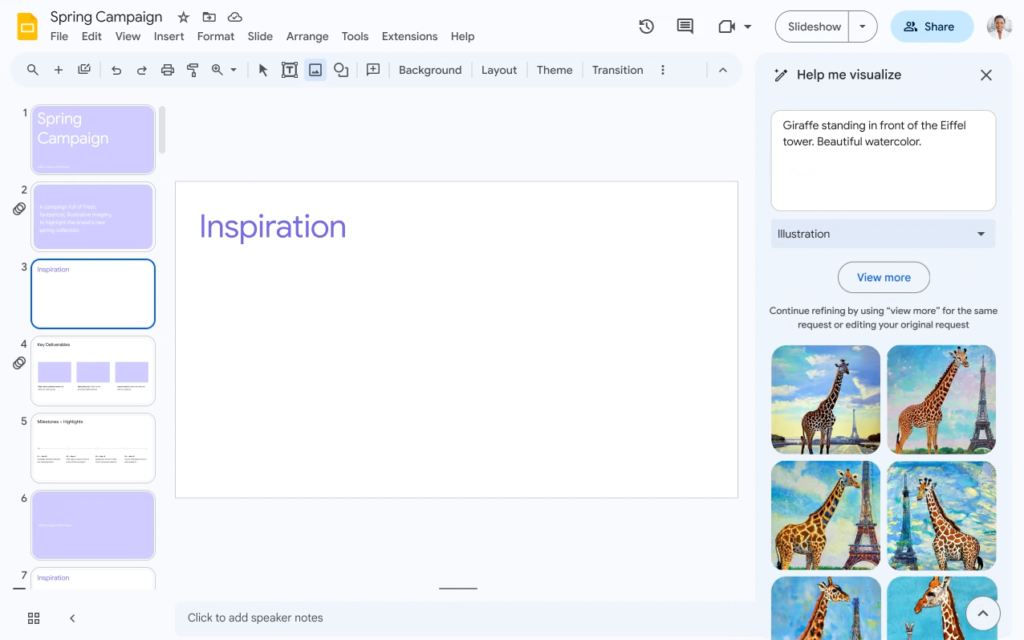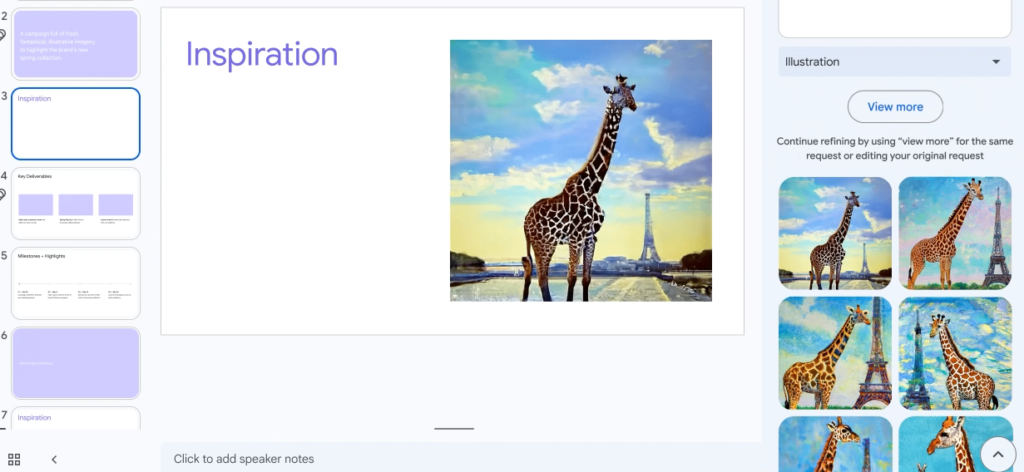 Duet AI in Gmail mobile
You can use Duet AI in Gmail mobile to draft complete responses with just a few words as a prompt. Duet AI will suggest professional replies that include names and other information from your email. Duet AI is designed to be your smart and helpful partner in Google Workspace.
Duet will take Google Workspace to new heights
Duet AI is a powerful tool that can enhance your collaboration and productivity with your team. Whether you are writing a report, a presentation, a blog post, or a story, Duet AI can help you create better documents faster and easier. Try it out today and see how it can transform your writing experience.
Join Guidady AI Mail List
Subscribe to our mailing list and get interesting stuff and updates to your email inbox.