Character.AI App
Download the Character.AI Mobile Apps (Android & IOS)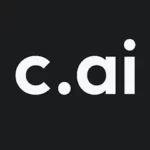 "We are happy to announce that we have released our free mobile app!"
Download Character.AI mobile app today and enjoy the same incredible features that the Character.ai website provides, now available on your phone. Whether you use iOS or Android, The mobile app will give you the best of Character.AI wherever you go.
✅ Interact with amazing Characters
✅ Explore millions of user-made AIs, each with their own unique personality
✅ Create new Characters easily with a few words, or customize them to your liking with our advanced character creation tools
✅ Enjoy unlimited free messaging (and no ads)!
Create amazing stories, get help with your homework from anime characters, learn a new language, or even write a novel… all with the help of a smart assistant that YOU design! The sky is the limit, and we invite you to explore the potential of this technology. We're eager to see what you make with Character.ai mobile app!
Is Character.AI app free?
How do I fix Character.AI "Rate Exceeded" error?