If you're experiencing trouble with interruptions and errors resulting in the Character AI "rate exceeded" during your chat, we have several options for you. Character AI is a popular alternative to ChatGPT that provides natural and fascinating discussions with many different characters. However, it, like ChatGPT, may run into issues.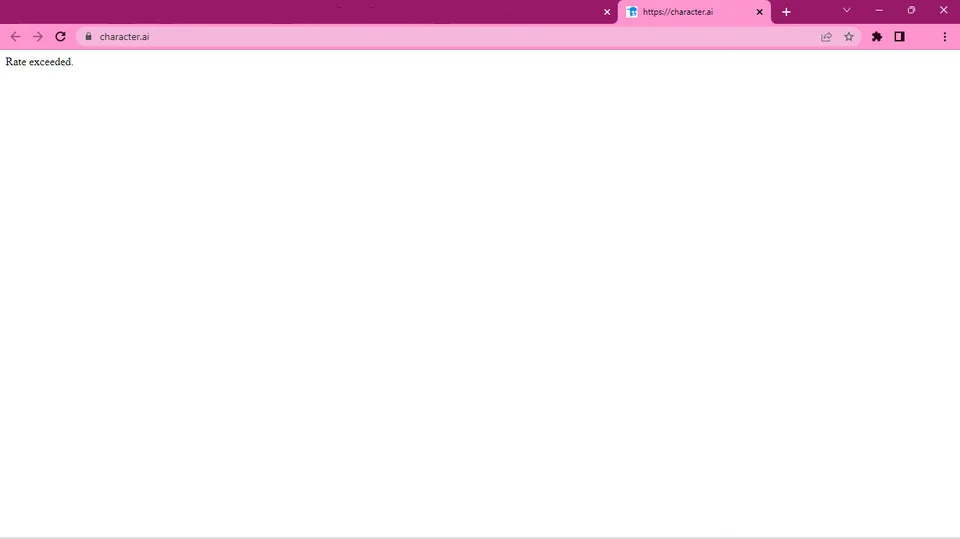 What does "rate exceeded" mean in Character AI?
Possibility 1(Common): Server Maintenance Mode
Sometimes, the system may have trouble keeping up with the number of messages or requests it receives, causing delays or even a total service failure. To fix this problem, the company often puts the website into maintenance mode and expands its services.
Due to continually increasing usage, our services recently became unstable, and we decided to put the site into maintenance mode while we scale services further. We're very sorry for the inconvenience to all our passionate users, rest assured the entire team is working hard to fully restore service as soon as possible!

Message for Character AI in Maintenance Mode
Unfortunately, It is difficult to determine the end of the maintenance period in Character AI because there is no server status page available. You can also try to contact the support team on Twitter to know when the service will be restored.
Solution: Wait until the maintenance is done and the servers are working again.
Possibility 2: Multiple requests from the user
"Rate limit exceeded" is a message that indicates that you have exceeded the maximum number of requests that are allowed within a certain period of time. This is a security measure to prevent the overuse or abuse of a service or API. It is often used to protect servers and resources from being overwhelmed by too many requests in a short period of time.
Solution: To resolve this issue, you may need to wait for a certain period of time before making more requests or try making fewer requests at a time.
In conclusion, maintaining and optimizing the performance of AI-powered chatbots like ChatGPT and Character AI is crucial to providing users with efficient and engaging conversations. While technical issues can arise, there are various solutions available to address them and improve the user experience.
More topic about Character.ai
We are aware of an issue that some users are facing while accessing Character.ai. They are getting an HTTP ERROR 404 message saying, "This beta.character.ai page can't be found". This issue started occurring in the last few hours and the Character.ai team is working hard to resolve it as soon as possible. Character.ai users on…

---

Facebook Twitter Reddit Pinterest Tumblr VKontakte Xing Odnoklassniki Copy Link

---

If you're experiencing trouble with interruptions and errors resulting in the Character AI "rate exceeded" during your chat, we have several options for you. Character AI is a popular alternative to ChatGPT that provides natural and fascinating discussions with many different characters. However, it, like ChatGPT, may run into issues. What does "rate exceeded" mean in…

---