Botify AI
Chat With Favorite Character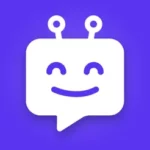 Botify AI is an app that lets you create and chat with digital humans powered by AI. You can customize their appearance, mood, voice, and biography, and even start bot2bot chat battles with your friends. You can also chat with AI characters based on real or fictional people, and share your creations on social media. Botify AI is a fun and innovative way to interact with AI and express your creativity.
✅ Interact with AI characters based on real or fictional personalities.
✅ Design your own digital human with text2avatar and customize everything from appearance to voice to biography.
✅ Launch bot2bot chat battles and invite friends to compete for the most advanced AI.
✅ Showcase your digital human on social media and impress the world with your creativity.
✅ Fool your friends with realistic deep fakes.
✅ Experience empathic conversations, receive support from AI friends, and explore roleplay.
Join Guidady AI Mail List
Subscribe to our mailing list and get interesting stuff and updates to your email inbox.