How many artificial intelligence applications do you think are in your business at the moment? 5? 10? 100? No one knows for sure, because AI is a rabbit hole, the depth of which we have not yet known.
Why dive into that hole now?
To be the first in your niche and get access to absolutely rooftop tools – almost like James Bond – and all colleagues and competitors will envy you.
To surprise your customers and earn more money on it!
To eventually do your job faster, and the rest of the time to drink juice by the pool and enjoy life.
Let's start with things that just blow up the brain and move on to more pressing application issues.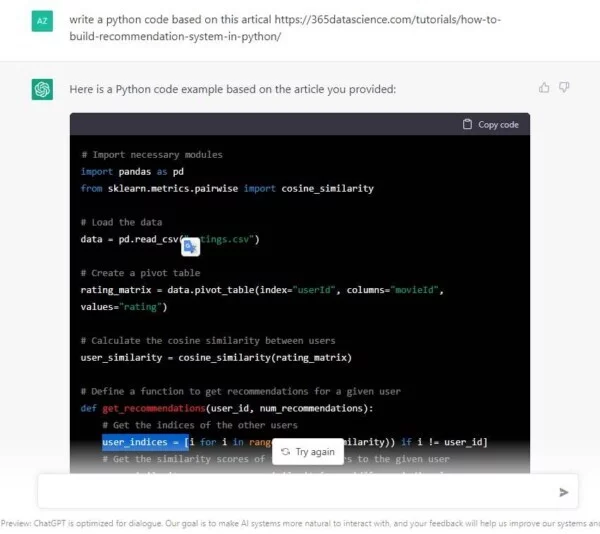 I was generally blissfully ignorant, until a couple of weeks ago my friend threw me a screenshot with the code of the program that this neural network wrote for him. What? Does the neural network write programs? Yeah, but now it will not be about replacing programmers, but about the use of AI in business.
Idea 1. Neural network – business consultant
So, a fresh ChatGPT, which discusses the entire Internet, can replace you with an advisor when doing business.
He will answer questions about choosing a niche, recommend how to start a promotion, evaluate the results of your advertising placement, choose the most profitable advertising channel, correct the texts for the site, tell you where to create it yourself from scratch, and most importantly give instructions ON HOW.
ChatGPT is a co-founder who can create a business with you and will not ask for a share in it.
You can have a dialogue right in the chat and ChatGPT will be aware of the context of your conversation from the beginning to the end. You can ask questions in any form, he will understand you, well, or ask you again. This is your personal advisor!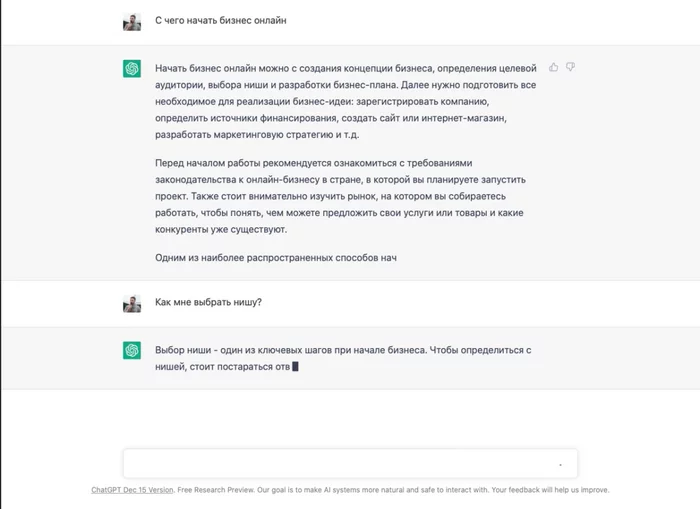 The most important thing is to ask questions correctly and give real introductions for the neural network: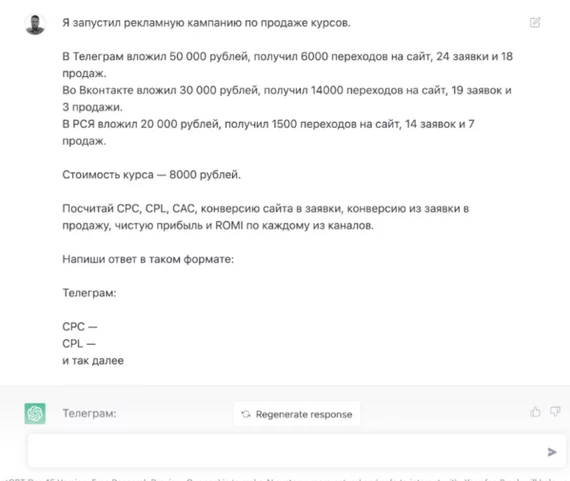 There are at least three limitations of ChatGPT
The first is that he is trained on the results up to the age of 22 and cannot conduct a marketing analysis of current trends for you, so for now we are waiting for the latest version of GPT-4 this year.
Secondly, he understands English better. He works faster in English and finishes the thought in the same language.
Thirdly, registration on a Russian SIM card and a Russian IP is not available for Russians.
The third restriction can be circumvented and I will tell you how, Read this article to know how to register in ChatGPT.
Real business problems that AI can solve
So, we move on to the urgent, applied things, from simple to complex, from the beginner to the advanced level, and will use different services and even telegram bots based on neural networks.
Advancement! Yes, wow, the robot will help you advance! And to promote for free. I'm going to talk about a couple of ways I've found.
Idea 2. AI writes comments, and you get customers
There is such a free legal way of promotion in social networks and in general wherever there is communication between users – "commenting".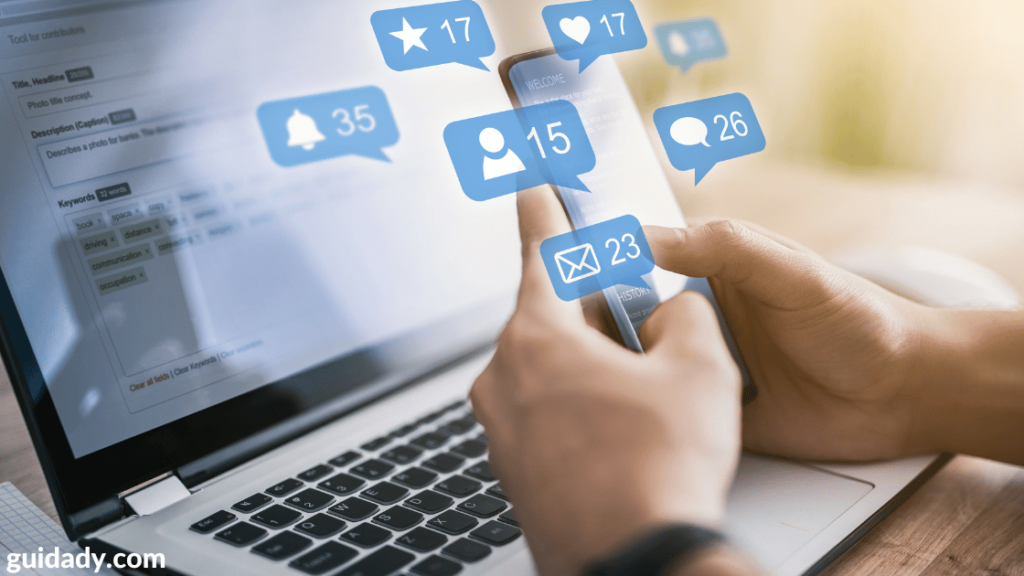 You create an account in the desired social network with your audience and begin to actively leave comments under other people's posts, where there is your target audience. People who liked your comment (including the author of the post) will go to your account and may be converted into subscribers or directly into customers – a person will write in person or go to your site from the profile description. It's not about spam with self-promotion in the comments, for such a quick you can catch a ban from the site, but about comments on the topic: supportive, and inspiring while using the material from the same post.
So let's move on to neural networks – there is already a bot that can come up with 3 options for such comments on the fly based on the post, and you can take one of them and paste it as is or slightly correct it.
And now commenting becomes much easier, and the effect is achieved 10 times faster. Previously, you would have had enough for 5-10 such comments, and with this bot for all 50! Just do not forget to design your profile so that potential customers and subscribers do not come to the bare page.
There are also specialized applications that help to quickly compose comments on the same Twitter and LinkedIn – Replai.so
Idea 3. AI writes an article, and you receive new applications
This is already a little more complicated, but the exhaust can give more. Write an article on any website where anyone can come and post their content.
You can create a publication through the user-friendly interface of the Gerwin AI service.
Be sure to insert your personal experience into the generated pieces of text, otherwise, it will be a failure and the audience will not perceive the publication properly. Still, the neural network produces fairly general texts: unique from the point of view of search engines, but banal from the reader's point of view.
As soon as the company has more money, you can move from free ways of promotion to paid advertising, for example, in the target. Here you do not need to be sophisticated, only to come up with the advertising message itself.
Ideas 4 and 5. The neural network comes up with advertising for you to target
Open Gerwin again and create a post on the well-known AIDA advertising formula from the corresponding template or, if you're a fan of storytelling and original personal storytelling, go to the "Interesting Story" template and set an introduction there – the output is the text that you can work with further.
Idea 6. AI generates product descriptions for marketplaces
Ok, you do not advance in the target, but post the goods on the marketplace. An old Gerwin buddy will also help here.
The description of the product is generated in a separate template for input data and at the output, there is the text that can be immediately inserted into the product card in your online store.
Idea 7. Neural network responds to negative reviews
Further, your business grows, customers appear, they write reviews on your products or services in order to quickly respond and do it in a particular form, we go to an already familiar bot and ask you to politely respond to the complaint.
Idea 8. Neural network draws illustrations for an article, post, or advertisement
The popular Midjorney can help create unique images for the design of any publication. To do this, you need to download the Discord messenger, find the Midjorney server through the search, and in one of the newbies chats give the task of the neural network through the /imagine command:
I got the cover for this article through Midjourney after a few iterations.
Moreover, the prompt (hint) for the neural network helped me to make ChatGPT since neural networks understand each other better than us, leather bags. I just wrote to the chat:
Create three different prompts for the Midjorney neural network to draw an illustration for a post about a successful startup founder
And I got several options to choose from.
A startup founder standing in front of a group of investors, with a determined expression on their face and a chart showing their company's rapid growth displayed on a screen behind them
Then I added to it the parameters found in the network through the special characters "::" :
A startup founder standing in front of a group of investors, with a determined expression on their face and a chart showing their company's rapid growth displayed on a screen behind them:: photo-realistic, unreal engine, motion view, cinematic lighting, volumetric light, ultra detailed, shallow depth of field, 8k –v 4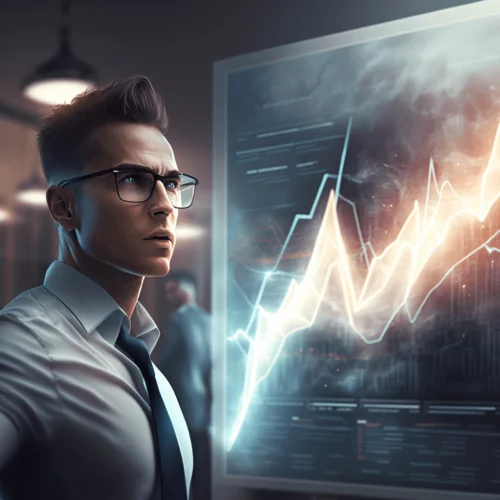 More different settings can be found on the following sites:
Idea 9. The neural network answers the questions of your users in the telegram
Remember, at the beginning of the article, I said that you can bypass the restriction for Russia, China, Egypt, Algeria, and other users. In a sense, this was done by the team of the Albato service, which introduced its free telegram bot, which has a GPT-3 neural network from OpenAI under the hood.
The guys even posted on their blog an example of how with the help of their designer you can create your own similar bot, but with full functionality and without breaking phrases from the AI.
Idea 10. AI automates teamwork
The Albato team also showed how to automate the setting of tasks in the team using the example of Google Sheets and the YouTrack task scheduler.
You write a short formulation of the task, and the AI converts it into a full-fledged task and even provides explanations and necessary references.
Services mentioned in this article.
https://chat.openai.com – ChatGPT
https://gerwin.io – Gerwin AI
https://t.me/Free_OpenAI_bot – Free OpenAI Bot
https://www.midjourney.com/ – Midjorney
https://replai.so – Replai.so Twitter Comment Generator
Conclusion
This and still far from the limit of the capabilities of neural networks, now they will undoubtedly begin their indiscriminate addition to various products. Although we have long been using services based on neural networks, for example, road navigators, until this moment AI has always been in the shadows.
Now many write "the neural network generated" or "the neural network drew", although any program still needs a person who will give input data, adjust the parameters and evaluate the result based on their life experience.
AI will always be an assistant, not a substitute, but we must learn to use this assistant so as not to weave in the tail of progress.
Source: pikabu.ru
Join Guidady AI Mail List
Subscribe to our mailing list and get interesting stuff and updates to your email inbox.