Ai Dungeon is a fantastic software that allows you to interact with an AI narrator in any scenario you choose. Want to experience life in the apocalypse? explore a water planet? Or be a sentient fish in a world full of cyborg alligators? You can do it all. But they say the experience is better when shared. So how can you play AI Dungeons with your friends?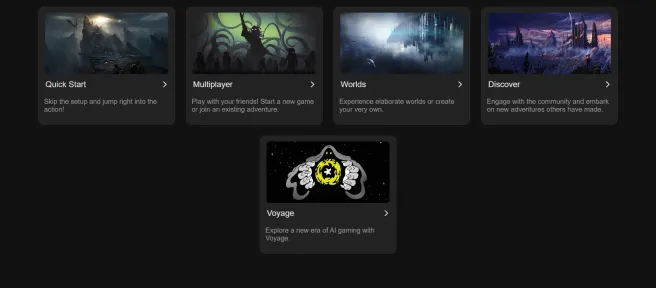 How to Play WITH Friends in AI Dungeon
First, you have to set up a multiplayer game – not every game can just be joined. To do this, click the "Play" button in the upper right corner of the screen (for computers) or at the bottom of the screen (for mobile devices). This will greet you with a menu that has five fantastic game modes from which to create stories, but we're interested in the Multiplayer Tab.

Start a new game.
When you launch the game, you have to select the settings hint in the menu, then enter your name, and here it is. A multiplayer game has begun.
Seems simple, right? The problem mostly arises when people want to join games, which require a short code. Short codes aren't the most intuitive things, but they're actually exactly where they should be.
In the upper right corner of the screen, there will be three tabs: "Model", "Display" and "…". Tap the last tab and look at the bottom of this screen. A button "invite friends" will appear. Click on it to get a unique 8-digit shortcode for this game.
Now you can invite your friends to join you in your adventures.
The shortcode is case-sensitive, so make sure your friends join the same code. Also, not everyone needs to be online for a game to work – the game will always be running, no matter how many people are/aren't in it.
If someone from the group has a premium status, invite them to the host – this way you can choose the DRAGON AI, which will provide the best multiplayer experience. In addition, the premium player can then opt for a special third-person mode, allowing the AI to better handle more than one person. If it makes a mistake or gets confused, you can simply "undo" and "repeat" until the AI does it right.
Join Guidady AI Mail List
Subscribe to our mailing list and get interesting stuff and updates to your email inbox.