Are you looking for a smart and reliable AI assistant that can handle all your tasks with ease? Meet Lindy, the ultimate productivity partner for busy professionals. Lindy can help you with everything from calendar management and email drafting to contract sending and beyond. Whether you need to schedule a meeting, follow up with a client, or send a proposal, Lindy can do it for you in minutes.

What can Lindy do?
Lindy is more than just a software, it's a personal assistant that learns from your preferences and adapts to your needs. It is compatible with all your devices and platforms, so you can access it anytime, anywhere. Lindy is also secure and compliant with the highest standards of data protection and privacy. With Lindy, you can save time, money, and hassle, and focus on what matters most: your work.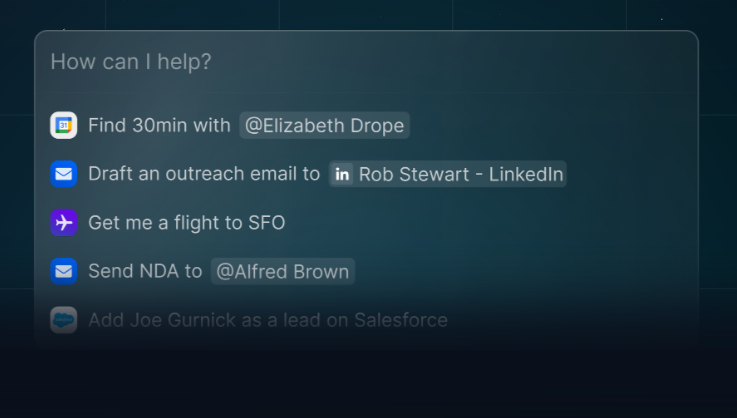 Lindy AI Features
Lindy's features include but are not limited to:
Lindy triages your email
Automatic conflict handling
Daily briefing
Contract management
Meeting note-taking
Summarization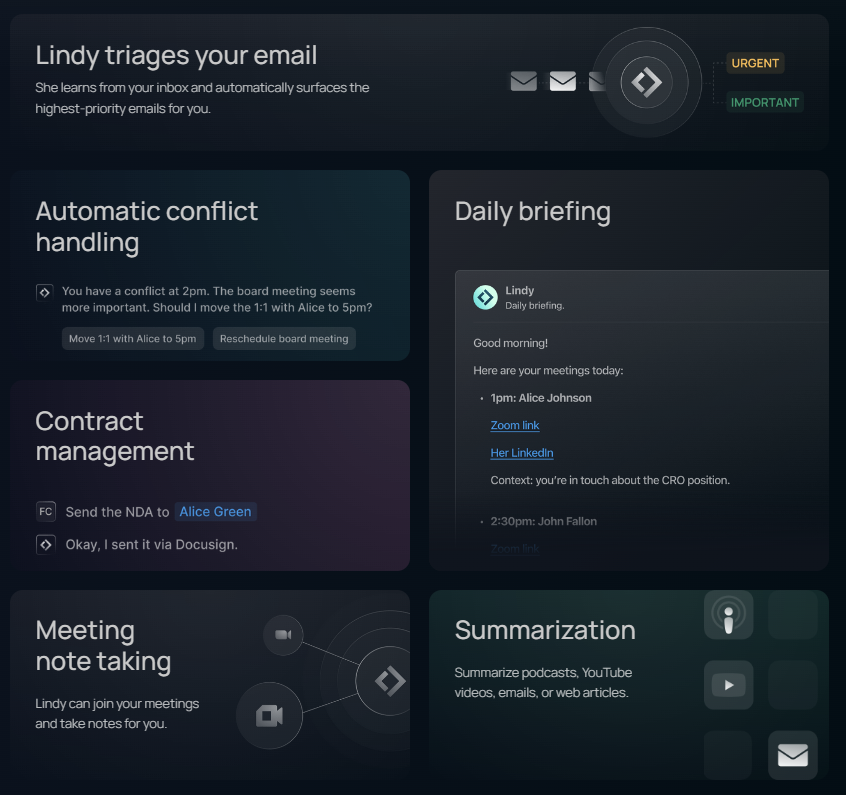 Lindy use cases
Sales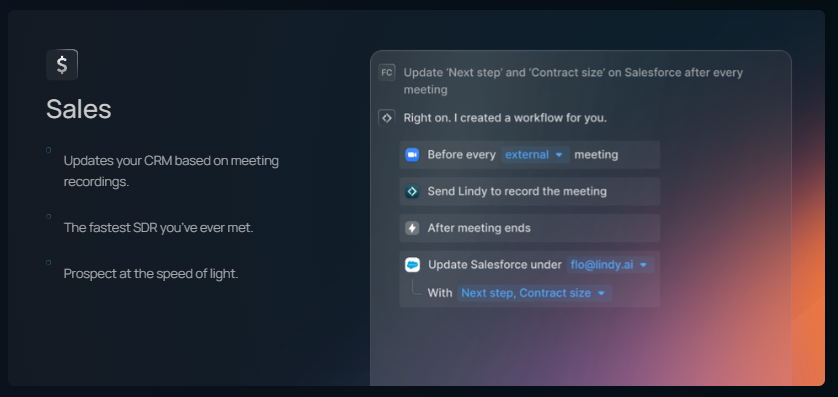 Recruiting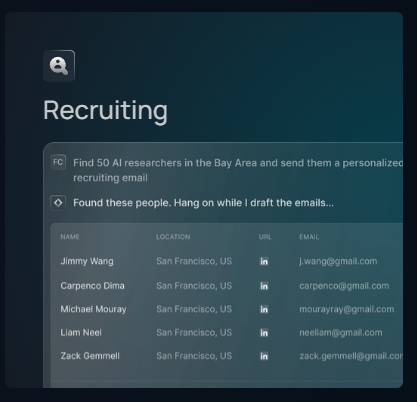 Scheduling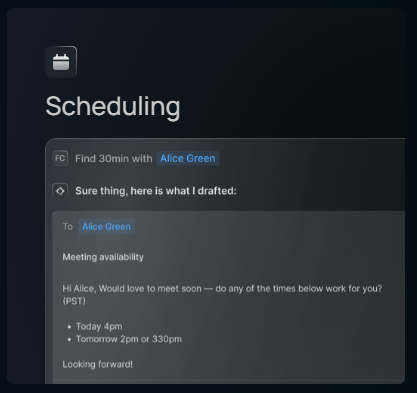 Marketing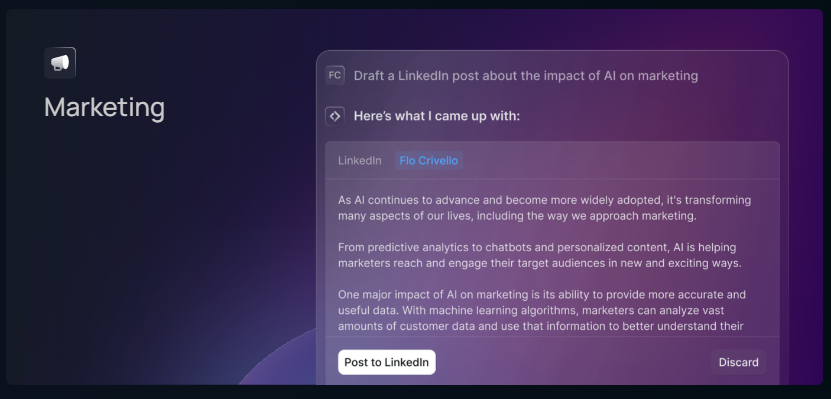 Lindy Integration
Lindy can integrate with your favorite tools:
Google Drive
Linkedin
Google Docs
Linear
Gmail
Google Calendar
Twitter
Google Sheets
Salesforce
Twilio
Hubspot
Airtable
Slack
join the BETA waitlist
Enter your mail and join the waitlist to get access to Lindy Beta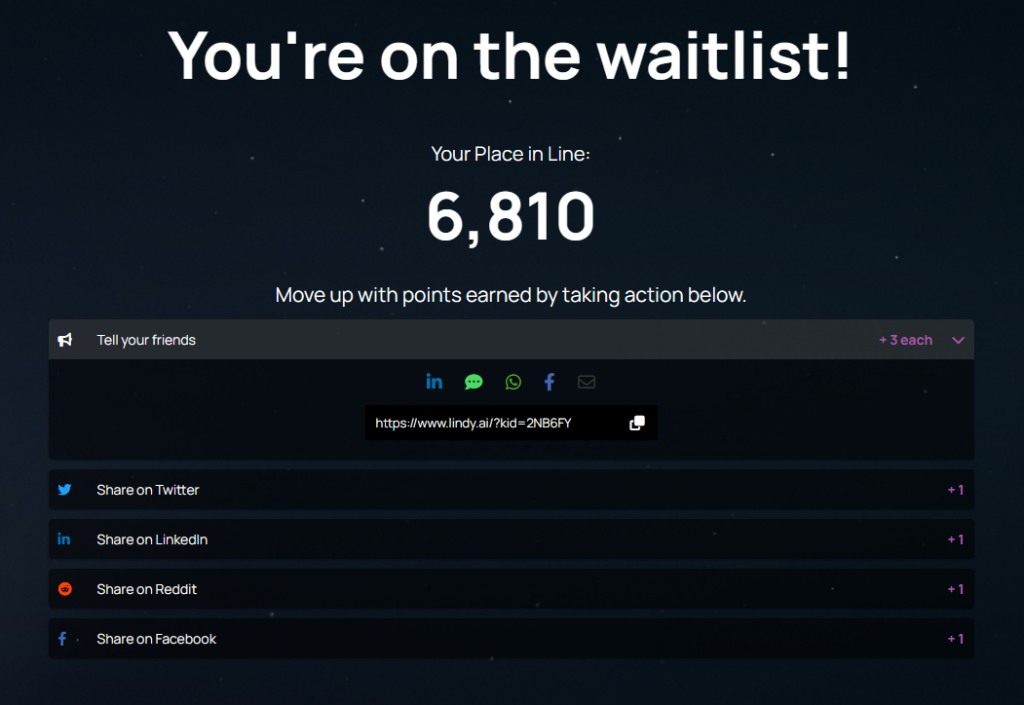 What to expect from Lindy?
Here are some of the benefits of using Lindy AI:
Reliability: Lindy is exceptionally reliable and attentive to detail — she doesn't screw up. She has built-in guardrails that monitor her confidence and the potential impact of her actions, and she will always ask for your confirmation before doing something risky or irreversible.
Privacy: Lindy respects your privacy and will never sell or divulge your information to third parties. She uses end-to-end encryption and secure cloud storage to protect your data.
Personalization: Lindy learns from both your explicit and implicit preferences, adapting to your style and needs. She can use your preferred tools and platforms, such as email, Slack, Zoom, Google Calendar, etc. She can also handle different types of requests, such as formal or casual, urgent or non-urgent, etc.
Proactivity and High Agency: Lindy takes initiative, proactively offering solutions and anticipating your needs. She can remind you of important dates, suggest tasks to delegate, or propose ways to optimize your time. She always follows the principle of reliability first, meaning she only takes initiative when she's highly confident or when the stakes are low.
Embracing Ambiguity: Lindy can handle ambiguous requests, figuring out what you mean and acting accordingly. She can use context clues and common sense to infer your intentions and goals. She can also ask clarifying questions if needed, but she will try to minimize the back-and-forth communication.
Speed: Lindy is fast and able to learn quickly from your feedback. She can perform tasks in minutes or seconds, depending on the complexity and urgency. She can also improve her performance over time by learning from your corrections and suggestions.
Invisibility: Lindy aims to be invisible, seamlessly fitting into your life and existing workflows. She can communicate with you and others on your behalf without drawing attention to herself. She can also perform tasks in the background without interrupting you.
Join Guidady AI Mail List
Subscribe to our mailing list and get interesting stuff and updates to your email inbox.