Do you want to create stunning videos for your social media, website, or presentation without any hassle? Then you'll love Canva's new Magic Media feature, which lets you turn any text into a video in minutes!
Magic Media is an AI-powered tool that can generate videos based on your text description. You can choose from a variety of styles, music, and animations to suit your needs. Here's how to use it:
Open Canva and start a new design or edit an existing one.
On the left side panel, click on Apps.
Under AI-powered, click on Magic Media.
Select the Videos tab, and type a description of the video you want to create. Be as specific as possible to get the best results.
Click on Generate video and wait for a few minutes while Magic Media works its magic.
To add the generated video to your design, simply click on it.
To make another video, click on Create again.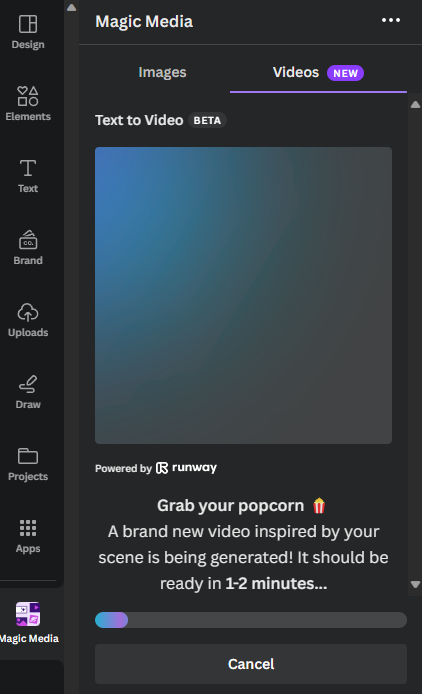 Each video you create with Magic Media will be 4 seconds long and will have a small watermark on the bottom right corner.
If you encounter any issues while using Magic Media, try changing your text description or checking your internet connection.
What are the limitations of Magic Media?
Magic Media is a powerful feature that can help you create amazing videos, but it also has some limitations that you should be aware of:
Canva Free users can use Magic Media's Text to Image feature 50 times and Text to Video feature 5 times in their lifetime.
Canva Pro, Canva for Teams, Canva for Nonprofits, and Canva for Education users can use Magic Media 500 times per month. This limit is per user and resets at midnight UTC on the last day of the month.
If your text description does not generate an image or video, it will not count as a use.
Magic Media's Text to Video feature can only generate one video at a time and it counts as one use.
Magic Media only follows the instructions from your text description. The more specific you are, the better your result.
Magic Media is a great way to create engaging videos for your audience without any hassle. Try it out today and see what you can create with Canva!
Join Guidady AI Mail List
Subscribe to our mailing list and get interesting stuff and updates to your email inbox.