Artguru is an AI art generator that lets you create stunning artwork in seconds. You can choose from a variety of styles, themes, and effects to transform your photos into extraordinary paintings. You can also generate a Yearbook and keep track of the new trend. But did you know that Artguru also has a Face Swap feature that allows you to swap faces with famous artists, celebrities, or historical figures?
Face Swap is a fun and easy way to create hilarious and impressive images. You can use it to make yourself look like Iron Man, Donald Trump, Mafia Boss, or anyone else you can think of. You can also mix and match different faces to create your own unique combinations.
How to use the Face Swap feature by Artguru AI?
To use the Face Swap feature, you can access the Artguru website. Or, you can download the app for free from the App Store or Google Play (will be released soon). Then follow these simple steps: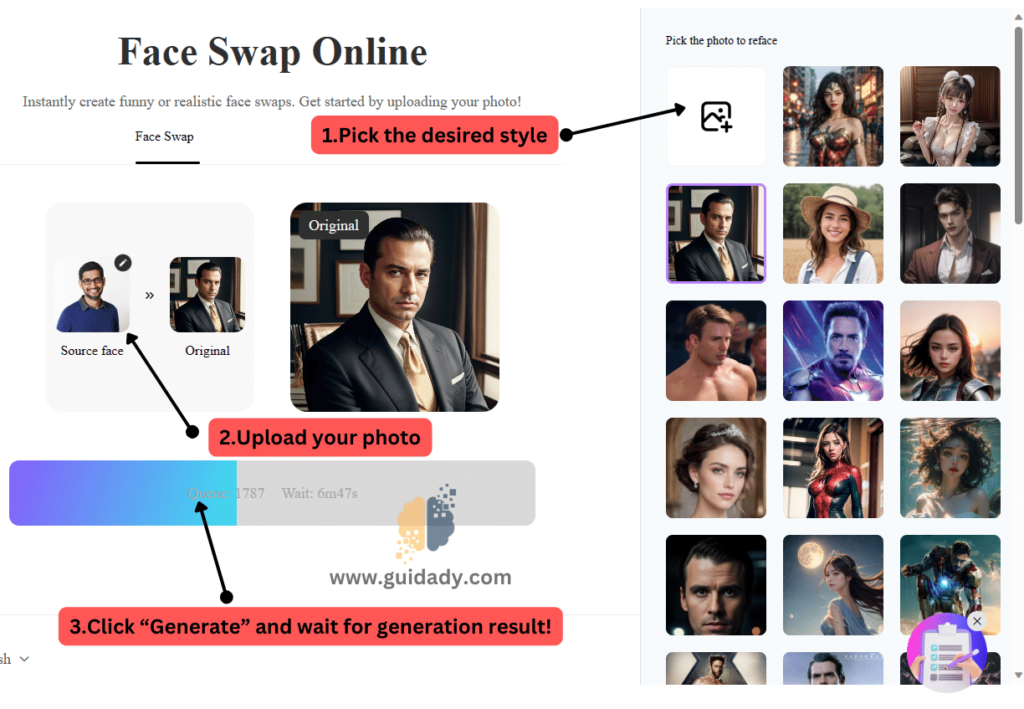 Open the Artguru website and select the Face Swap icon at the top of the screen.
Choose a face from the gallery of options or search for a specific name. You can also upload your own face if you want.
Select a photo from your gallery or take a new one with your camera. Make sure the face is clear and well-lit.
Click on the Generate button and wait for a few seconds while the AI does its magic.
Enjoy your new face and share it with your friends!
That's it! You have just learned how to use the Artguru AI Face Swap feature. Have fun experimenting with different faces and styles, and don't forget to check out the other features of the Artguru AI art generator.
Join Guidady AI Mail List
Subscribe to our mailing list and get interesting stuff and updates to your email inbox.