If you are a researcher who needs to keep up with the latest developments in your field, you know how challenging it can be to read and understand complex papers. Sometimes, you may have questions that are not answered by the paper itself, or you may want to compare different papers on the same topic. That's why we created TXYZ AI, a plugin that helps researchers read papers more efficiently and effectively.
What is TXYZ AI?
TXYZ AI is a web app and a plugin that works with any web browser and allows you to access a powerful natural language processing model that can decipher, compare, and answer questions about research papers using a simple Arxiv ID.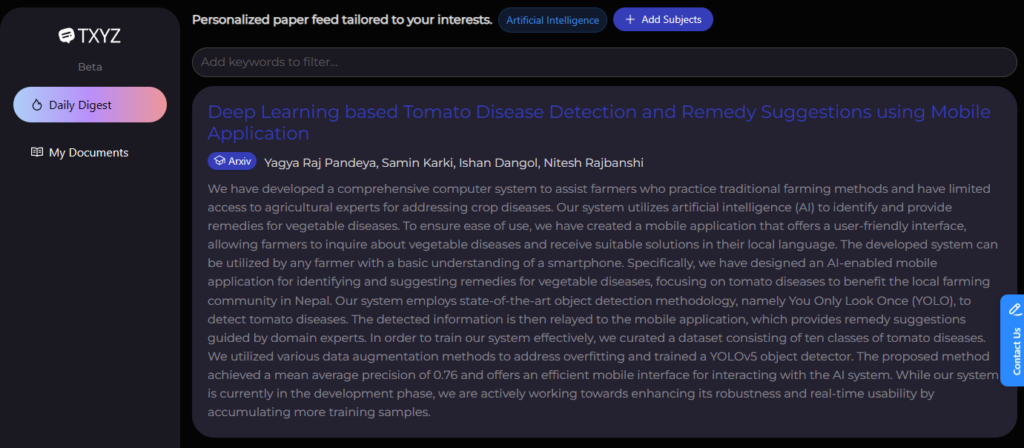 TXYZ AI features
Get a summary of the main contributions and findings of the paper
Ask any question about the paper and get an answer in natural language
Compare two or more papers on the same topic and see how they differ in methods, results, and conclusions
Find related papers that cite or are cited by the paper you are reading
Save and organize your papers in a personal library
TXYZ AI is designed to help researchers save time and effort, as well as to enhance their understanding and critical thinking skills. TXYZ AI is not meant to replace reading the original papers, but rather to complement them and provide additional insights. TXYZ AI is also constantly learning from new papers and feedback from users, so it can improve its performance over time.
Join Guidady AI Mail List
Subscribe to our mailing list and get interesting stuff and updates to your email inbox.