AI technology has revolutionized the way we write. Today, whether you are an expert content creator, a burgeoning student, a thorough researcher, or a keen marketer, you are always on the lookout for ways to make your writing better and easier. But the challenge often faced is producing engaging, original, and tailored content for a diverse audience, that too within tight deadlines.
This is where Paraphrasingtool.ai steps in, offering a state-of-the-art solution for all your writing needs. The multifaceted, AI-driven tool is not just another paraphrasing tool. It offers an array of modes that fit different writing scenarios.
As a professional writer with more than five years of experience in SEO content writing under my belt, I have tried numerous writing assistant tools. My extensive use and comparative analysis of such tools sparked my interest in Paraphrasingtool.ai.
In this in-depth review post, you will gain a comprehensive understanding of this advanced tool that could potentially transform your writing process.
So, let's dive in!
Paraphrasingtool.ai Review: An In-Depth Analysis
ParaphrasingTool.ai is a groundbreaking artificial intelligence (AI) writing assistant that boasts an impressive suite of over 30+ tools designed to cover a broad range of writing and content creation needs.
From the moment you log into ParaphrasingTool.ai, you have access to a diverse selection of tools just within a drop-down click, each developed with a specific task in mind, be it creating new content, rewriting sentences, or even ensuring the originality of your content.
Its paraphrasing tool is undoubtedly the star of the show and arguably one of the best on the market. The tool operates by taking user-provided text and leveraging its AI capabilities to generate paraphrased content, which can be further personalized using its various features.
Uniquely, ParaphrasingTool.ai also includes audio, image, and speech-to-text paraphrasing capabilities, a first in the world of online paraphrasing tools.
Overall, ParaphrasingTool.ai is an impressive option for those who wish to improve their writing quality, enhance originality, and save time on content creation. Whether you're a student, a professional writer, or a marketer, this tool can revolutionize your writing process with its advanced features and user-friendly interface.
Paraphrasingtool.ai Features
Paraphrasingtool.ai offers a range of AI paraphrasing features including:
Eight Paraphrasing Modes: The tool provides eight distinct modes for paraphrasing, catering to a variety of content needs to make the tool adaptable for different writing scenarios.

Tone Customization:

Paraphrasingtool.ai allows users to adapt the tone of the paraphrased content to suit their specific needs or audience. The four available tones are 'Casual', 'Formal', 'Professional', and 'Witty'.

Audio Paraphrasing:

A unique feature currently not available with any other tool, audio paraphrasing enables users to upload audio files and get them paraphrased. This is particularly useful for podcasters, journalists, or anyone dealing with audio transcripts.

Image-to-Text Paraphrasing:

Another groundbreaking feature, image-to-text paraphrasing allows users to convert image content into text and then paraphrase it. This can be beneficial for researchers or writers working with image-based content or documents.

Speech-to-Text Paraphrasing:

This feature allows users to speak directly into the tool and obtain a paraphrased text. It's perfect for people who prefer speaking their thoughts or those with limited typing abilities.

In-built Plagiarism Checker:

This feature helps ensure the originality of your content by checking it against billions of web pages, publications, and documents.

AI Text Editor:

A comprehensive editor that provides features like translation, summarization, adding bullet points, examples, and more with just one click. This tool can significantly enhance the readability and structure of your content.

Web Browsing Feature:

This innovative feature allows you to search for relevant articles and insert text directly into the editor for paraphrasing purposes. It provides two options: read the full article or summarize the complete article for a quick overview of the content.

Synonym-Changing Features:

Allows you to customize your writing by selecting alternative words or phrases from the given options. This feature helps to enrich the text and tailor it according to your specific audience.

Sentence Rephraser:

Once the paraphrasing is done, you can select a sentence and the tool will offer the five alternate sentence paraphrases to choose from. The rephrasing is done in such a way that the new sentence retains the same semantic value but with different wording.
The Pros and Cons of Paraphrasingtool.ai
| | |
| --- | --- |
| Pros | Cons |
| With over 30 tools, it caters to a wide range of content creation and editing needs. | Advanced features are only available with a premium subscription. |
| It offers unique audio, image-to-text, and speech-to-text paraphrasing capabilities. | The free version allows paraphrasing up to only 20,000 characters. |
| The tool effectively retains original meaning while improving readability and originality. | Understanding and using all the features of ParaphrasingTool.ai might require some time and practice. |
| The Four Tone Feature enhances reader engagement and content effectiveness. | Ads with the free version. |
| Original and plagiarism-free content | |
| User-friendly interface with easy-to-use tools | |
| Supports multiple languages | |
| Integration with popular browsers (Chrome Firefox, Opera, and others) | |
| Integration with MS Word to streamline writing processes | |
The Performance of Paraphrasingtool.ai: A Closer Look
Paraphrasingtool.ai is reliable, secure, and fast. The platform's cutting-edge machine-learning algorithms guarantee swift and precise outcomes.
Using ParaphrasingTool.ai is a straightforward and efficient process. This step-by-step guide will take you through the usage of each of its primary features.
Open Website:
Start by opening up the ParaphrasingTool.ai website. As a free user of ParaphrasingTool.ai, you get access to a suite of features designed to meet your basic paraphrasing needs.

Once you're ready to paraphrase you'll see the various paraphrasing modes displayed. Choose the one that best suits your needs.
Example:
Using Academic Mode: You have an academic paper and you want to paraphrase it. Choose the 'Academic' mode, paste your original text into the input box, and hit 'Paraphrase'.

Using Text Improver: If your text is complex and needs simplification, use the 'Text Improver' mode. This mode fixes sentence structure and simplifies the writing style.

Tone Customization
Adjust the tone of your content using the Four Tone Feature. This feature can make your text casual, formal, professional, or witty.
For example, If you're writing a blog post and want it to be engaging and casual, select the 'Casual' tone and let the tool do its magic.

Using Sentence Rephraser
Use this feature if you want to rephrase each sentence in your text. It can be particularly useful when you're looking to avoid plagiarism.

Using Other Unique Features
ParaphrasingTool.ai also offers audio, image-to-text, and speech-to-text paraphrasing capabilities. This is perfect for creating diverse content types.
Example: If you have a podcast episode you'd like to transcribe and paraphrase, use the audio-to-text feature.
Plagiarism Check
Once your text has been paraphrased, use the built-in plagiarism checker to ensure your content is unique.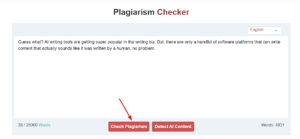 Editing the Text
Utilize the AI text editor to edit your paraphrased content. You can translate, summarize, and add bullets, and examples within just one click.

Web Browsing Feature
Use this to search and insert text into the editor for paraphrasing purposes. You can summarize complete articles and include the research material in your paraphrasing. Search for relevant articles using the "Search on Web" feature and import the text directly into the editor for paraphrasing.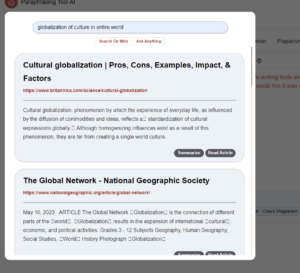 By following these steps, you can leverage all the powerful features of Paraphrasingtool.ai to produce high-quality, unique content that fits your specific needs.
Remember, practice makes perfect – so don't hesitate to experiment and explore the different features to get the most out of this tool.
Paraphrasingtool.ai Pricing: Is it Worth the Cost?
Considering its robust features and performance, the pricing plans of ParaphrasingTool.ai strike a notable balance between affordability and functionality. Here's a detailed breakdown: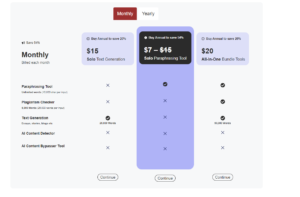 Solo Text Generation Plan:
Priced at $15 per month (or $144 annually which equates to $12 monthly), this plan offers text generation for up to 25,000 words with a monthly subscription and a substantial 60,000 words with the annual plan.
This plan is perfect for individuals who frequently produce essays, stories, and blog posts.

Solo Paraphrasing Tool Plan:
For those solely interested in the paraphrasing capabilities of the tool, the Solo Paraphrasing Tool Plan offers unlimited word paraphrasing at $7 per month, or an even more cost-effective $60 annually (which breaks down to $5 monthly).
All-in-one Bundle Tools Plan:
The All-in-one Bundle Tools Plan, priced at $20 per month (or $192 annually, making it $16 per month), provides comprehensive features. Alongside unlimited paraphrasing, this plan includes a plagiarism checker for up to 5,000 words monthly or a massive 60,000 words annually.
Additionally, the text generation capabilities are extended to 50,000 words monthly or a staggering 600,000 words with an annual subscription. The bundle is sweetened with free access to the AI content detector and AI content bypasser tool.
Final Verdict on Paraphrasingtool.ai: Is it Right for You?
After an exhaustive review of its features, functionality, pricing, and user experience, it's time to deliver our final verdict on ParaphrasingTool.ai.
Firstly, the platform shines when it comes to offering a broad array of features catering to diverse writing and content creation needs. From simple rephrasing to advanced plagiarism checking and from text improvement to sentence rephrasing, this tool encapsulates an end-to-end solution for writing and content creation.
ParaphrasingTool.ai's commitment to user-friendliness, visible in its intuitive user interface and seamless user experience, lowers the barrier to entry, making it accessible to both beginners and seasoned content creators.

In terms of pricing, the platform's various plans provide great flexibility, allowing users to choose a package that aligns with their needs and budget. Each pricing plan delivers substantial value, balancing affordability and advanced functionality.
In conclusion, if you need an advanced and versatile paraphrasing tool, ParaphrasingTool.ai could be a great option. We recommend trying the free version first to see if it meets your needs.
Join Guidady AI Mail List
Subscribe to our mailing list and get interesting stuff and updates to your email inbox.